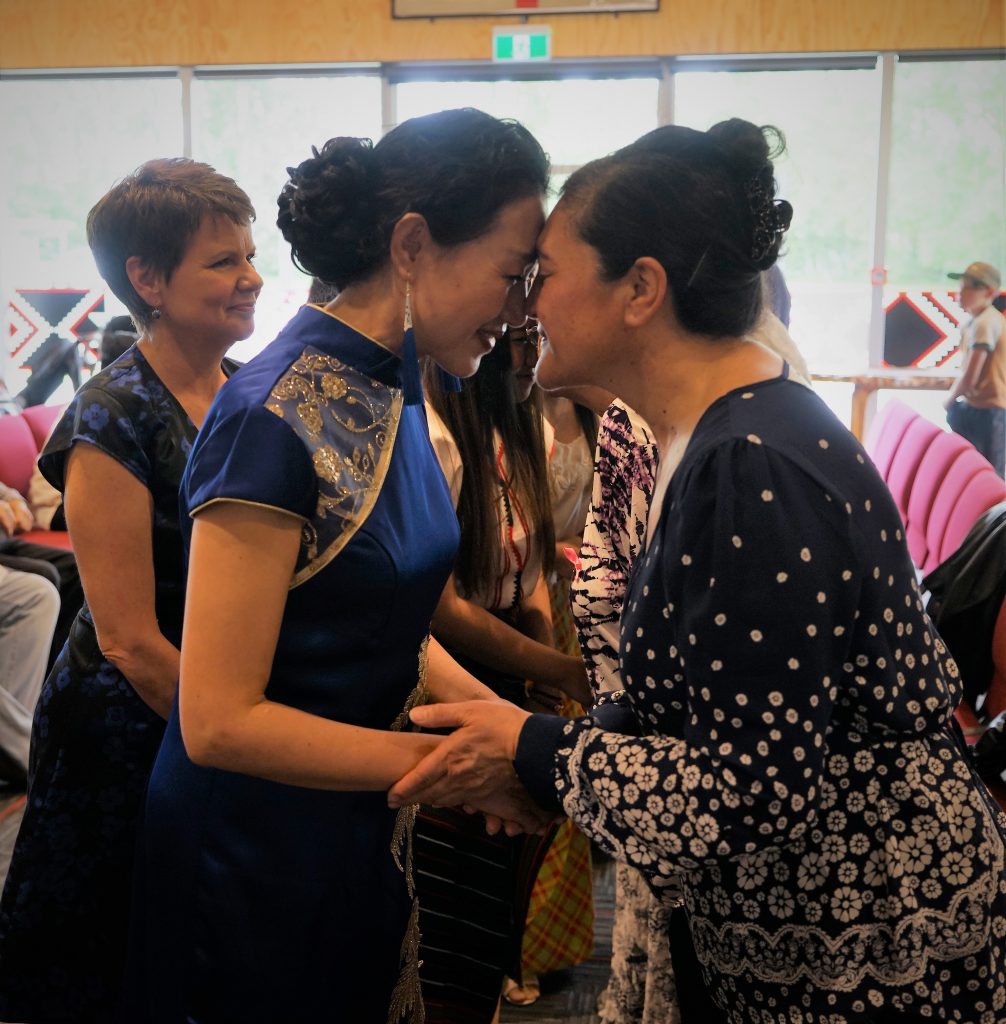 Formal Maori welcome ceremony with Hongi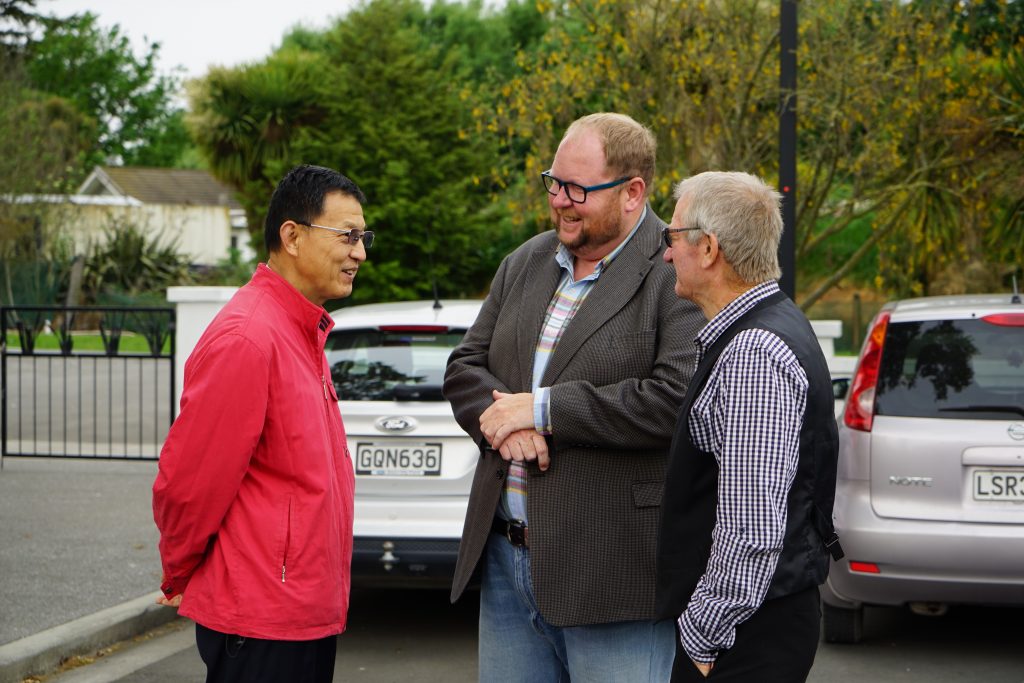 Newly elected Waimakariri mayor Dan Gordon (middle),  Dr Yafei Zhou (left), president of NZ Hubei Economy Trade Culture Association attended this great event as well.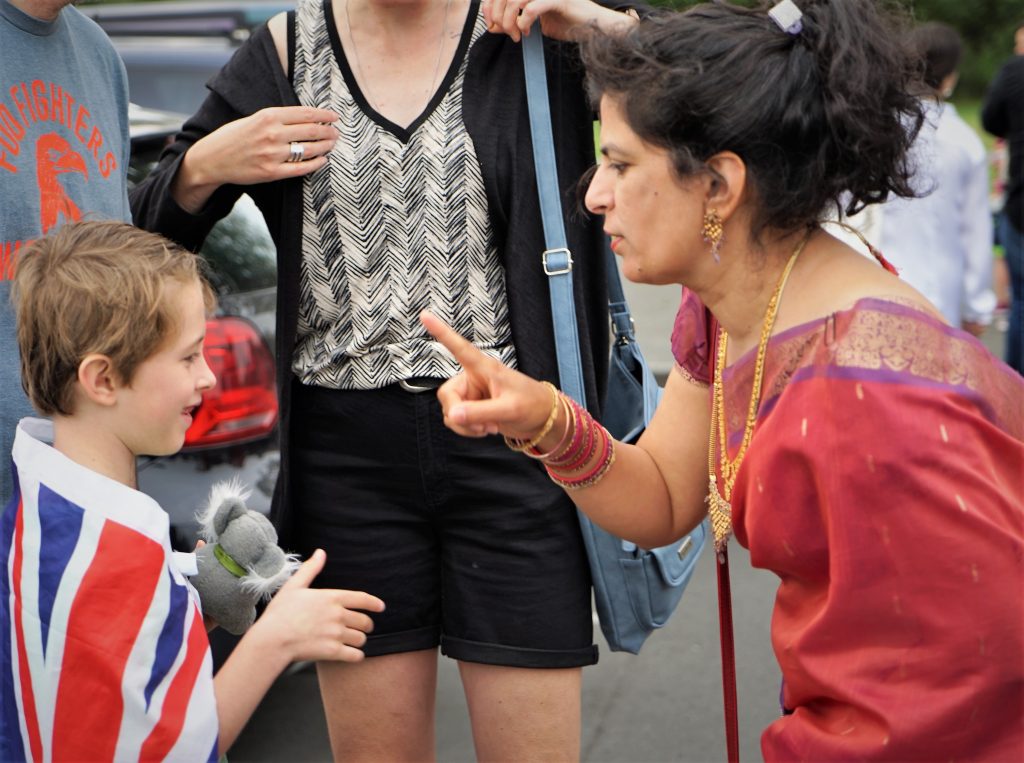 Newly immigrated people happily met here at the event.
On 9th November 2019 Saturday, on behalf of the Migrants and Newcomers Group, Waimakariri District Council Community Team organized a "Cultural Connections" event at Tuahiwi Marae for multi-ethnic cultural connection and exchange, co-operated by NZ Hubei Economic Trade Culture Association (NZ HB ETC).
The newly elected Waimakariri District mayor, Mr Dan Gordon attended the event, made a speech. Over 20 Christchurch Chinese performers presented Chinese performances to showcase the Chinese style and culture to the representatives of ethnic groups, nearly 130 people in total including representatives of various countries.
In the Marae Hall, we have been warmly welcomed by the Maori hosts, learned Maori protocol, experienced the Hongi and Maori culture. A brief introduction of Maori history and culture by Maori elders and head Bob Bolanos.
Dr Zhou Yafei, President of (NZ HB ETC), briefly introduced to the delegates: In 2016, the (NZ HB ETC) Association facilitated and helped Enshi (in Hubei China) and Waimakariri established sister city relationship. Official and civil of the two districts visited each other successively and conducted exchanges and interactions in the fields of agriculture and animal husbandry, soil science, culture, education, and tourism.
Then he introduced the two shows performed by Christchurch Chinese performers.
After the welcoming ceremony, representatives of various countries performed shows representing their own culture.  The Chinese representative performed a graceful Tibetan dance, and the colorful cheongsam dress show with BeiJing Opera music made the audience fascinated and applause!
Another high light of the event was the pot luck lunch: each of the delegates brought a dish with their own national characteristics to share with everyone. Together with the Maori and Kiwi cuisine provided by the organizers of the event, the delegates enjoyed delicious food reflected the different cultures.
Finally, the event was ended in the singing of "We Are the World" by all attendees.
Video by Xu Bai Zeng
Reported by Yang Zhou (NZ HB ETC)
Click the link here to view a video by BaiZeng Xu
More photos to be enjoyed by click following <<NZ Messenger>> report: